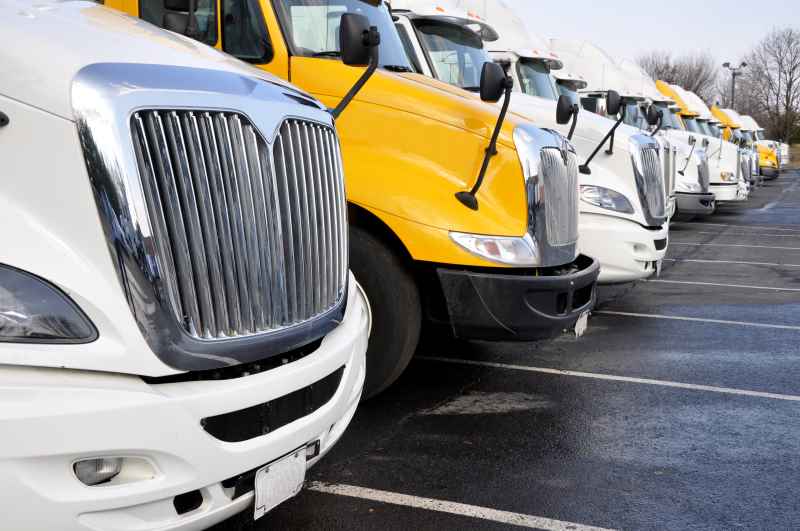 Keeping the highways safe is no small task, and the Federal Motor Carrier Safety Administration (FMCSA) Commercial Driver's License Drug and Alcohol Clearinghouse aka "The Clearinghouse" aims to do just that. 
The FMCSA is working to improve highway safety by providing employers the information they need when it comes to making safety-sensitive decisions.
"The Clearinghouse is a secure online database that gives employers, the Federal Motor Carrier Safety Administration (FMCSA), State Driver Licensing Agencies (SDLAs), and State law enforcement personnel real-time information about commercial driver's license (CDL) and commercial learner's permit (CLP) holders' drug and alcohol program violations.
The Clearinghouse contains records of violations of drug and alcohol prohibitions in 49 CFR Part 382, Subpart B, including positive drug or alcohol test results and test refusals. When a driver completes the return-to-duty (RTD) process and follow-up testing plan, this information is also recorded in the Clearinghouse." – clearinghouse.fmcsa.dot.gov
FMCSA Clearinghouse Year in Review
While it is still in its infancy, the FMCSA Clearinghouse has successfully been able to monitor its impact on highway safety by recording, querying, and reporting. In June of 2020, we noted their effects and impacts, so let's take a look at what they have been able to accomplish after just one year of operating.
FMCSA Clearinghouse: Recording & Registering
Recording information pertaining to drug and alcohol testing violations is made possible through role registrations, including drivers, employers, consortia/third-party administrators (C/TPAs), medical review officers (MROs), and substance abuse professionals (SAPs). The following chart depicts the number of registrations by type as of January 1, 2021. There has been a total of 1,767,885 registrations.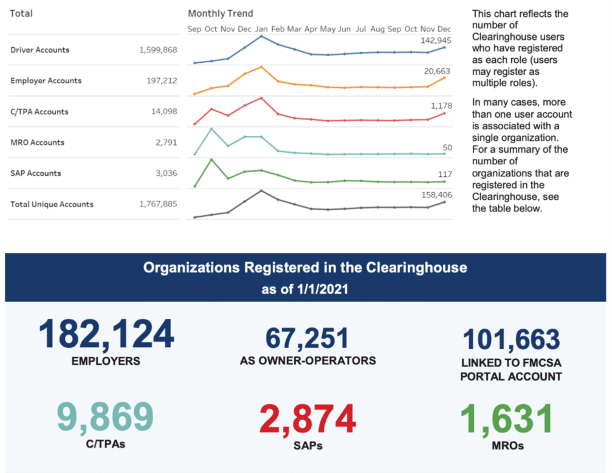 FMCSA Clearinghouse: Querying
Once an employer registers with the Clearinghouse, routine querying is conducted when hiring new employees and annually for existing employees to accurately report drug and alcohol violations for employees with a CDL. The following chart depicts the number of each type of query conducted per month. There has been a total of 4,268,411 queries.

FMCSA Clearinghouse: Reporting Violations
When querying prospective and existing CDL employees, there may be evidence of drug or alcohol violations that should be reported to the Clearinghouse to help employers make informed decisions. The following chart depicts the number of violations reported monthly to the Clearinghouse. There has been a total of 56,158 violations.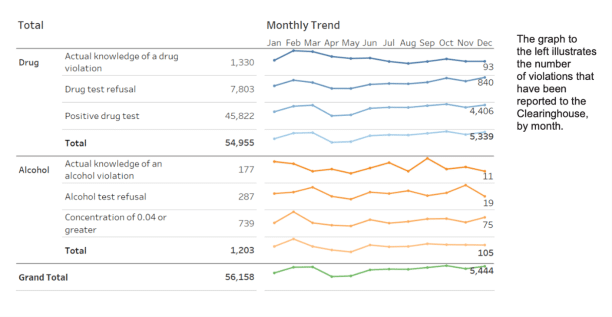 *To access the complete report produced by The Clearinghouse, click here.
How The FMCSA Clearinghouse Helps Improve Highway Safety
Collecting data and providing pertinent information to employers hiring or managing safety-sensitive positions is the Clearinghouse's main priority to help ensure highway safety. However, registering any role with the FMCSA Clearinghouse is not required unless their prospective or current employer chooses to conduct a comprehensive query into the driver's Clearinghouse record.
At NMS, we offer a wide variety of compliance solutions and screening services, including 24/7 collections. It doesn't matter what you need, we can help you with your business. Contact us today to learn how.